your partner for better solutions,

best performance
About us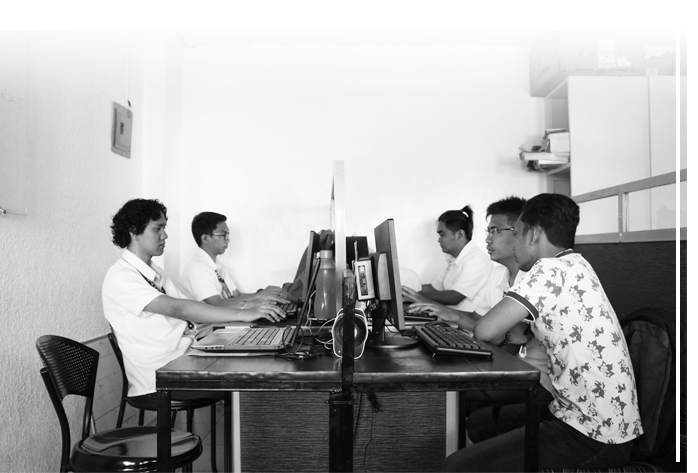 ITMG Enterprises fomerly (Hooks on Systems Technology - HOST) officially started its business in the mid 2009 as a sole priprietorship under the name of Anthony Sucgang. Before, the small business categorized itself as computer sales and services by providing students and other walk-in customers a nice computer cafe facility. It also supplied small businesses with various IT equipments.

Unfortunately, HOST became inactive for the past 2 years, the proprietor dicided to continue the business in 2011 and changed its name into ITMG Enterprises. The office was relocated from Sta.cruz to Pila Laguna and now expand its reach in Calamba City.

Now the business under the new name continues its service to cater more its client needs especially when it comes to IT neccesities. The business ideas came up from the mind of the owner to merge Automation, Information Technology, Telecommunication (Electronic) and Internet Marketing Strategies

One of ITMG's thrust is to maintain a high level of technical expertise, attend the SEO in UP Diliman, Panasonic, TOA Electronics and Aiphone equipment seminar and certifications
Mission
We are extremely comitted to delivering quality service, latest IT innovations, Branded It equipments, and Digital Solutions into your door steps.
Vision
To provide quality services that exceeds the expectations of our esteemed customers.
Core Values
We believe in treating our customers with respect and faith
We grow through creativity, invention and innovation.

We integrate honesty, integrity and business ethics into all aspects of our business functioning.
Technical Innovation
We believe in implementation of technical innovation with agility and synergy in different sectors within their economic capacity and partnership with our company to reach a common goal.
We Build Relationship
We are not only doing business but building a lasting business relationship.
We Aim for Client's Success too
We measure our success and company's effort by our customers and client's growth
We Listen & Understand
We put ourselves in the shoes of out clients when implementing information systems and other projects.
We Grow by Building
We gain expertise from our own professional experiences and previous job and business.
We Never Stop Learning
We invest heavily on continuing technical and professional trainings to adopt in new technologies that the industries are using today.
We Develop to make Impact
Our expertise were always sought by different government and non-government organizations.
We Care for our Employees
We have experienced in providing excellent staff care and an efficient management and technical employees.
WE CAN PROVIDE YOU COMPLETE
BUSINESS SOLUTIONS AS FOLLOWS:
Structured cabling / networking / data-communication
Telephone PABX System KX-TDE200 and KX-TDE600 Hybrid (UK), Intercom Cable
Nurse call series (alert and communication systems) Aiphone UL 1069 NHX80X Series, and NHX50M master controller.
Intercom System
Security System
Public Address (Paging System) TOA system management amplifier (Japan)
WI-FI zone
Wireless Communication System
Communication Set (Entertainment System)
Server Set-up using IBM or DELL
FDAS (Fire Detections and Alarm System)
CCTV with streaming capabilities HIKVision Distributor (HDTVI quality)
Point to point bridge antenna capable of interconnecting buildings / branches in a single network using ubuquity equipment from Germany.
Ticketing Queue Kiosk
Attendance Management System Kiosk and RFID Scanner for employees, regular patient (to whom you may want to monitor their visits and discounts the same as suki card in groceries and mercury drug store)
Barcode Scanners, Point of sale (POS), Cash Registers, Thermal Printer.
Payroll System
Marcelita Bldg. Brgy. Mayapa Calamba City Laguna

admin@itmgent.net

(049) 306-8597 / 0945 415 9240